via The Islamization of Britain in 2017
by Soeren Kern
Reports of alleged links between Islamic charities and terrorism or extremism surged to a record high, according to the Charity Commission, a charity watchdog.
Azad Ali, an Islamist who has said that he supports killing British soldiers, was named a director of Muslim Engagement and Development (Mend), a controversial Muslim pressure group which advises the British government. Ali said that the jihadist attack at Westminster on March 22, 2017 was not an act of terrorism.
"Politicians tell us they are unafraid, but they are never the victims. How easy to be unafraid when one is protected from the line of fire. The people have no such protections." — Manchester-born singer Morrissey.
The British government refused to say whether telling people about Christianity could be a hate crime. Lord Pearson of Rannoch said that when he raised a question on the issue in the House of Lords, the government failed to state clearly whether Christians can be prosecuted just for stating their beliefs.
The Muslim population of Britain surpassed 4.1 million in 2017 to become around 6.3% of the overall population of 64 million, according to a recent study on the growth of the Muslim population in Europe. In real terms, Britain has the third-largest Muslim population in the European Union, after France, then Germany.
The rapid growth of Britain's Muslim population can be attributed to immigration, high birth rates and conversions to Islam.
Islam and Islam-related issues, omnipresent in Britain during 2017, can be categorized into several broad themes: 1) Islamic extremism and the security implications of British jihadists; 2) The continuing spread of Islamic Sharia law in Britain; 3) The sexual exploitation of British children by Muslim gangs; 4) Muslim integration into British society; and 5) The failures of British multiculturalism.
JANUARY 2017
January 1. Hundreds of adult asylum seekers lied about their age in order to enter Britain "as teenagers," according to official data provided under the Freedom of Information Act. Figures obtained by Mail on Sunday show that social workers carried out 2,028 age tests between 2013-2016, during which almost one in four of the claimants — 465 — were found to be over 18. By concealing their real age, migrants hope to improve their chances of being granted asylum.
January 1. Reports of alleged links between Islamic charities and terrorism or extremism surged to a record high, according to the Charity Commission, a charity watchdog. The number of times the Commission shared concerns about links between charities and extremism with police and other agencies nearly tripled, from 234 to 630 in just three years.
January 4. Jamshid Piruz, a 34-year-old Afghan-born Dutch citizen declared guilty of murder in the Netherlands, pled guilty to attacking two British police officers with a hammer. Piruz entered the UK unchallenged, despite being convicted of decapitating a Chinese woman in Amsterdam. He was sentenced to 12 years in prison for the murder, but released early. As a Dutch resident, Piruz was allowed to travel freely across the EU. "Britain has got to have tougher border controls," said MP Henry Smith.
January 6. St. Mary's Episcopal Cathedral in Glasgow featured a reading from the Koran which denied the divinity of Jesus Christ. The Koran reading, aimed at "reaching out to Muslims," was held on Epiphany, a festival which celebrates the incarnation of God in the person of Jesus Christ. One of the Queen's chaplains, Gavin Ashenden, referred to the Koran reading as "blasphemy" and said the decision showcased the limits of interfaith dialogue. He resigned on January 23 in order to "speak more freely" about the struggle of Christianity in British culture.
January 7. Tanveer Ahmed, a 32-year-old jihadist serving a 27-year prison sentence for the murder in Glasgow of Asad Shah, an Ahmadi Muslim shopkeeper, issued a recording from Scotland's Barlinnie prison in which he called for the "elimination" of the enemies of Islam.
January 8. MI5 launched a manhunt for a Syrian scientist posing as a refugee and plotting a chemical attack on a British seaside town.
January 9. Inspectors from Ofsted, the schools regulator, concluded that Darul Hadis Latifiah, an all-boys school in East London, was not preparing pupils "for life in modern Britain." Many of the students at the school could not name the British prime minister. Inspectors also found books which "promoted inappropriate views" on how females should behave, and found a closed-circuit television (CCTV) camera in the bathroom.
January 15. Twelve of Britain's most dangerous Islamic terrorists were to be placed in containment units in three prisons at a cost of about £1 million ($1.34 million) a year, according to The Sunday Times. The aim is to prevent them from radicalizing other inmates.
January 17. Cambridge Professor Wendy Ayres-Bennett called on Britons to learn languages such as Polish, Punjabi and Urdu to make immigrant families feel more at home. She said that English speakers should think of immigration as a "two-way street" and be able to communicate in another language to aid integration and social cohesion.
January 18. Manchester United appointed a counter-terrorism manager to protect against jihadist attacks. It was believed to be the first Premier League football club to do so.
January 20. Gloucester Cathedral invited Imam Hassan of the local Masjid-e-Noor mosque to perform the traditional Muslim invocation to worship at the launch of a multicultural Faith Exhibition. A video of the call to prayer was posted on the cathedral's Facebook page. One commenter wrote: "My ancestors built this cathedral and to allow a practicing Muslim to pray to another god is insanely naive. What did you think it would do? Encourage them to convert?"
January 22. Hani al-Sibai, a 55-year-old Islamic extremist, was granted £123,000 ($165,000) in public money to help him fight deportation, even though he is alleged to be a "key influencer" of the Ansar al-Sharia movement, a terror group which murdered 30 British tourists at a Tunisian beach resort. Al-Sibai, whose three-story housing association home in West London is worth £1 million, is also said to have radicalized Mohammed Emwazi, the Islamic State executioner known as "Jihadi John."
January 24. St. Clare's School, a Roman Catholic School in Handsworth, found itself at the center of a social media storm after telling the parents of a four-year-old Muslim girl that she could not wear the hijab, a traditional Islamic headscarf, in class. The school has a strict uniform policy and asked the girl's parents to respect it. The girl's father refused and asked Birmingham City Council's Labour cabinet member Waseem Zaffar to intervene. Zaffar said: "I'm insisting this matter is addressed asap with a change of policy."
January 25. Abandi Kassim, a 44-year-old taxi driver in Leicester, was fined for breaching equality laws when he refused to carry a guide dog because he claimed it was against his religion. Kassim turned away Charles Bloch, 22, who is legally blind, and his dog in Leicester in July 2016. He pled guilty to refusing to convey a guide dog, an offense under the Equality Act 2010, and was fined £340 ($450) plus £200 costs and a £50 victim surcharge.
January 26. The City of Edinburgh invited citizens to vote for projects designed to create a city "free from Islamophobia." Some £40,000 ($54,000) were made available for projects "to help local people deliver innovative projects which reduce prejudice and foster positive relationships between diverse communities."
January 28. Changing of the Guard ceremonies at Windsor Castle were cancelled amid fears of jihadist attacks. Police said jihadis could target soldiers and the thousands of tourists who gather to watch the time-honored military tradition.
FEBRUARY 2017
February 1. Prime Minister Theresa May told the House of Commons that women should feel free to wear the hijab, a traditional Islamic headscarf. Several European countries have imposed bans on parts of Muslim religious dress. "What a woman wears is a woman's choice," May said.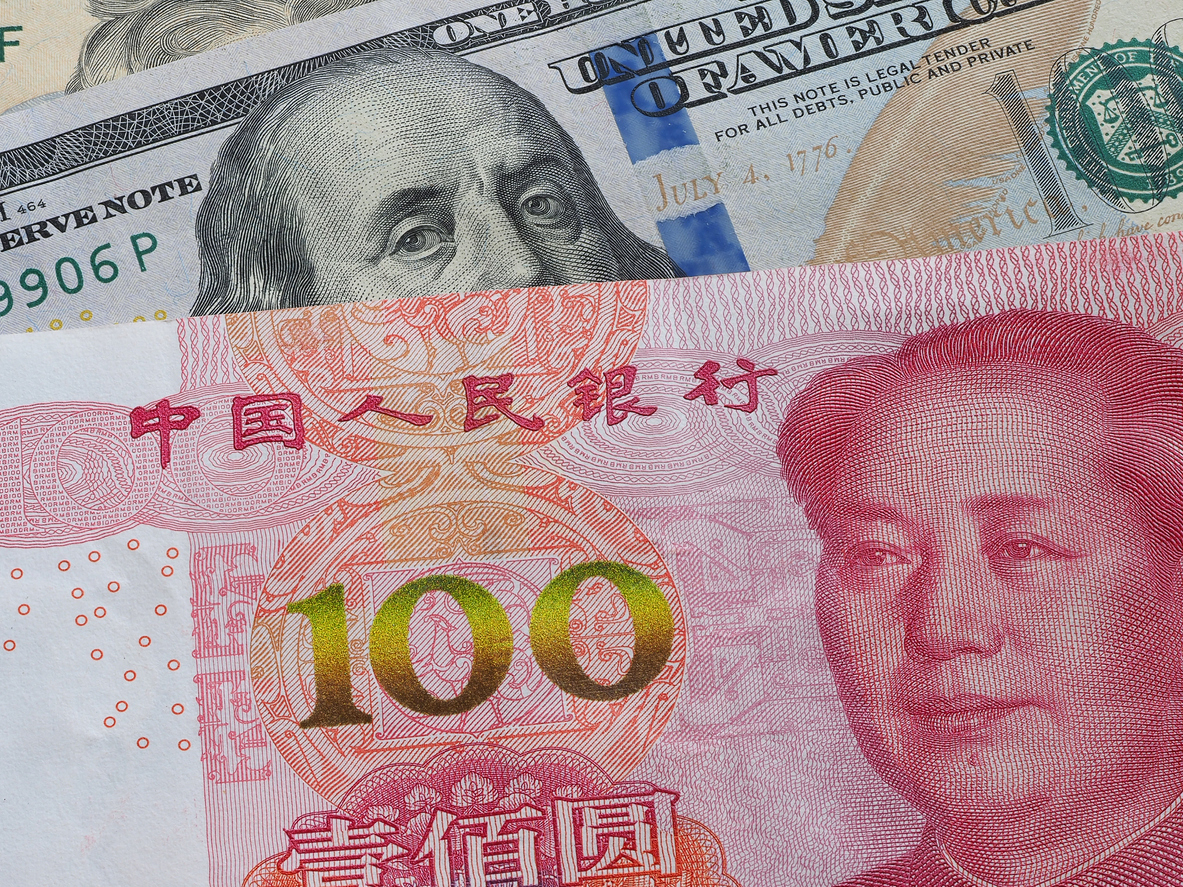 On February 1 ("world hijab day"), UK Prime Minister Theresa May said that women should feel free to wear the hijab, a traditional Islamic headscarf, stating: "What a woman wears is a woman's choice." Pictured above: Theresa May (then Home Secretary) wears a headscarf while attending an interfaith event at Al Madina Mosque in East London, in February 2015. (Image source: Imams Online video screenshot)
February 2. Six Muslim men shouted "Allahu Akbar" as they were sentenced at Sheffield Crown Court for a total of 81 years for sexually abusing two girls — including one who became pregnant at age 12 — in Rotherham.
February 5. Muslim pupils outnumber Christian children in more than 30 church schools, including one Church of England primary school that has a "100% Muslim population," according to The Sunday Times. St. Thomas in Werneth, Oldham, is reported to have no Christian pupils, while at Staincliffe Church of England Junior School in Batley, West Yorkshire, 98% of pupils "come from a Muslim background." The Church of England estimated that about 20 of its schools had more Muslim pupils than Christians and 15 Roman Catholic schools had majority Muslim pupils.
February 7. Zakaria Bulhan, a 19-year-old Norwegian national of Somali origin, was sentenced to indefinite confinement at Broadmoor Hospital after he admitted to killing American tourist Darlene Horton and wounding five others in a rampage in central London on August 3, 2016. Bulhan, from Tooting, South London, pled guilty at the Old Bailey to "manslaughter by diminished responsibility" on the grounds that he was suffering from paranoid schizophrenia at the time of the attacks. He had been charged with murder and attempted murder, but the court accepted his plea. During his arrest, Bulhan repeatedly muttered "Allah, Allah, Allah," and police found a Muslim prayer book, "Fortress of the Muslim," in his pants pocket. The court, however, decided that Islam was not a factor in Bulhan's behavior.
February 7. A Chatham House survey of more than 10,000 people from ten European countries found that an average of 55% agreed that all further migration from mainly Muslim countries should be stopped. Majorities in all but two of the ten states agreed, ranging from 71% in Poland, 65% in Austria, 53% in Germany and 51% in Italy to 47% in the United Kingdom and 41% in Spain.
February 9. A 44-year-old man from Hertfordshire was arrested at Gatwick Airport on terrorism charges after he disembarked from a flight from Iraq. He was charged under Section 5 of the 2006 Terrorism Act: suspicion of preparation of terrorist acts.
February 12. A National Health Service (NHS) project based on research by Leeds University claimed that Muslims with mental health issues could be helped by re-embracing Islam. Lead researcher Ghazala Mir helped to create a new treatment: Patients are asked if faith was part of their life when they were well. Those who stopped being religious are re-introduced to Islam by means of a self-help booklet.
February 14. Clayton McKenna, a 22-year-old Briton who converted to Islam while in prison, appeared at Newcastle Crown Court after he carried an axe through the streets of Boldon Colliery. Apparently, he had planned to confront his Christian father over "religious differences." McKenna allegedly told police that he was on his way to his father's home "to ask him to bow down to me." Judge Penny Moreland told McKenna: "I am concerned that there is no real explanation for your confused thinking that morning, nor for those threats made."
February 15. Faisal Bashir, a 43-year-old father of two from Ilford, was forced to move out of his home after he renounced Islam and stopped attending a mosque. Bashir said he was subject to harassment, but police dismissed his pleas for help as "just a nuisance." The Chairman of the Ilford-based British Pakistani Christian Association (BPCA), Wilson Chowdhry, said: "Police and councils up and down the country just don't understand the level of animosity people choosing to leave Islam can face."
February 16. Metropolitan Police Commissioner Bernard Hogan-Howe urged Muslim scholars to step up efforts to counter the Islamic State. He said he believed that IS fighters were "political criminals" who were carrying out "horrific violence" which had no justification in Islam. In an interview with the Evening Standard, Hogan-Howe repeated the politically correct dogma that the Islamic State is not Islamic.
February 18. Britain's first-ever "modest" fashion event was held in London with more than 40 designers displaying garments that comply with Muslim values. Event organizer Romanna Bint-Abubaker, founder of modest fashion website Haute Elan, told Sky News: "The fastest growing global consumer is at the moment the Muslim market. By 2030, one in three people will be a Muslim in the world — that is a huge population."
February 19. Counter-terrorism police launched an investigation into claims that Trish O'Donnell, head of Clarksfield Primary School in Oldham, was being forced to work from home after death threats from Muslim parents opposed to her Western values. O'Donnell reportedly was subject to "harassment and intimidation" in the form of "aggressive verbal abuse" and "threats to blow up her car" from parents pushing conservative Muslim ideals. The school is mostly filled with Pakistani pupils who do not speak English as a first language.
February 20. Members of Parliament debated U.S. President Donald J. Trump's state visit to Britain. Left-wing MPs called for the invitation to be withdrawn to protest Trump's travel ban on people from seven Muslim-majority countries. Conservative Party MPs accused their opponents of hypocrisy and insulting the American people.
February 21. Rezzas Abdulla, a 33-year-old man from South Shields, was sentenced to eight months in prison. The sentence was then suspended so that he could receive treatment for mental health problems, for assaulting a woman and her nine-month old baby. Rebecca Telford, 25, and her daughter were strolling in South Shields in January 2016 when Abdulla leaned into the baby carriage and spat into the baby's mouth, and allegedly said, "white people shouldn't breed," before launching into a tirade of racial abuse.
February 22. Jamal al-Harith, a 50-year-old British convert to Islam, blew himself up at an Iraqi army base in Mosul. He had received £1 million (€1.1 million; $1.2 million) in compensation from the British government after being freed from Guantánamo Bay in 2004. Al-Harith, originally named Ronald Fiddler, was born in Manchester to parents of Jamaican origin and took the name Jamal al-Harith when he converted to Islam. He was also known more recently as Abu-Zakariya al-Britani. Captured in Afghanistan in early 2002, and released from Guantánamo Bay after two years, he later joined IS.
February 23. The BBC paid "very substantial" libel damages and broadcast a full apology to Chowdhury Mueen-Uddin, founder member of the Muslim Council of Britain, who was falsely accused of calling for the lynching of author Salman Rushdie.
February 26. Shahriar Ashrafkhorasani, a 33-year-old Iranian-born convert from Islam set to be ordained as a Church of England priest, accused Oxford University of discrimination and bias after he was told he could not ask a professor questions about Islam. Bishop Michael Nazir-Ali, a former senior fellow at Wycliffe Hall, said that a "politically correct" atmosphere is "very widespread in the university as a whole." He added: "If people are taking money from these [Muslim] sources, then that can limit the critical approach to the study of Islam and Muslim civilization generally."
February 27. A spokesman for the West Midlands Police wrote on social media that parents caught practicing female genital mutilation (FMG) on their children should not be prosecuted. He revealed that the force is opposed to "prosecuting/jailing" parents for FGM because it would be "unlikely to benefit" children who fall victim to the crime.
February 28. Patrick Kabele, a 32-year-old convert to Islam, was found guilty of preparing terrorist acts — namely attempting to travel to Syria — contrary to the 2006 Terrorism Act. During his trial, jurors at Woolwich Crown Court heard how Kabele, from Willesden in North London, tried to join the Islamic State in Syria, where he wanted to buy a "nine-year-old virgin, the younger the better." He added that if he had enough money, he would buy four wives. Kabele, who was born in Uganda and became a British citizen, told police after his arrest that he did not "owe an oath of allegiance" to the United Kingdom.
MARCH 2017
March 1. A Channel 4 documentary series called "Extremely British Muslims" showed the inner workings of a sharia court inside Birmingham's Central Mosque. In the first episode, viewers witnessed the case of mother-of-four Fatima, 33, as she sought permission to divorce her drug dealer husband whom she says has abused her throughout their 14-year marriage. According to sharia law, Muslim women must plead their divorce cases in court, while Muslim men need only to say the words "I divorce you" three times to obtain a divorce. Birmingham Central Mosque said it allowed the sharia proceedings to be filmed in an effort to "break down misconceptions about Islam." Some 100 sharia courts in Britain are now dispensing Islamic justice outside the remit of the British legal system.
March 2. English actor Riz Ahmed warned that the lack of Muslim faces on British television was alienating young people, driving them towards extremism and into the arms of the Islamic State. Delivering Channel 4's annual diversity lecture in Parliament, Ahmed said that television had a pivotal role to play in ensuring that Muslims felt heard, and valued, in British society.
March 3. The Amateur Swimming Association changed its swimsuit regulations to allow Muslim women to wear full body outfits, after a request from the Muslim Women's Sport Foundation. The rule was changed to encourage more Muslim women to take part in the sport.
March 4. Ryan Counsell, a 28-yeara-old jihadist from Nottingham who left his wife and two small children to fight with the Abu Sayyaf Islamist group in the Philippines, blamed his behavior on the Brexit vote. He told the Woolwich Crown Court that increased tension within the local Muslim community after Brexit sparked his decision to leave. He said that he wanted to escape Britain's political climate and seek an "idyllic life" under sharia law.
March 5. Homegrown terrorism inspired by the Islamic State poses the dominant threat to the national security of the United Kingdom, according to a comprehensive new report on violent Islamism in Britain. The 1,000-page report — "Islamist Terrorism: Analysis of Offenses and Attacks in the UK (1998–2015)" — was published by the Henry Jackson Society, a foreign policy think tank based in London.
March 6. British security services prevented 13 potential terror attacks since June 2013, according to Assistant Commissioner Mark Rowley, the UK's most senior counter-terrorism police officer. He also said that there were 500 live counter-terror investigations at any given time, and that investigators have been arresting terror suspects at a rate of close to one a day since 2014. The official threat level for international terrorism in the UK has stood at severe — meaning an attack is "highly likely" — for more than two years.
March 7. The National Health Service (NHS) revealed that there were 2,332 new cases of female genital mutilation (FGM) in Britain between October and December 2016. That statistic brought the total of new cases in 2016 to nearly 5,500.
March 7. The managers of the cash-strapped Sandwell General Hospital near Birmingham said they would consider building a special kitchen for preparing halal meals for Muslim patients and staff. The move followed complaints about the quality of halal meals that the hospital has outsourced from local vendors.
March 10. The BBC announced that it would begin outsourcing production of Songs of Praise, a Sunday worship program that has been produced in-house for 55 years. Critics of the move said they feared that Songs of Praise will lose its Christian focus in favor of Islam. Anglican priest Lynda Rose said a recent Songs of Praise episode featuring a segment about the Muslim faith, including Church of England children visiting a mosque, exemplified the "Islamization of the BBC." More than 6,000 people signed an online petition calling for MPs to investigate the BBC after it appointed Fatima Salaria as the BBC's head of religious programming — the second Muslim in a row to hold the post.
March 11. Britain's foreign aid budget was accused of funding at least two dozen Palestinian schools, some of which are named after terrorists and murderers, openly promote terrorism and encourage pupils to see child killers as role models. A Mail on Sunday investigation found pictures of "martyrs" posted on school walls, revolutionary slogans and symbols painted on premises used by youngsters, sports events named after teenage terrorists and children encouraged to act out shooting Israeli soldiers in plays.
March 11. Islamic preachers may be asked to begin delivering their sermons in English under measures being prepared to rid Britain of hate preaching. The Telegraph reported that the government's counter-extremism taskforce is working on the plans amid concern that preaching in foreign languages enforces divisions between Islam and mainstream British society.
March 12. An Islamic bookstore in Alum Rock, a predominately Muslim suburb of Birmingham that has produced 10% of all of Britain's convicted terrorists, was found to be openly selling books promoting jihad.
March 14. A father who described himself as "Anglo-Saxon" lost a legal battle to prevent his Muslim ex-wife from sending their 10-year-old son to an Islamic secondary school. The man, who was not named for legal reasons, said he wanted to prevent his son from attending a "school inside a mosque" on the grounds that he would be "marginalized" by his son if he enrolled at the London-based school. The man's lawyer said that the mother and father had "different world views" and that it was client's wish that his son be educated in a "neutral" environment. The man had converted to Islam but renounced his faith following the separation. A High Court judge dismissed the man's appeal, ruling that the man would not be marginalized by his son.
March 17. The former owners of a bookstore in Bradford apologized after copies of the Koran and other Islamic literature were found in a garbage dumpster outside the store. Police were called to the store after a group of Muslim males began abusing the staff. The imbroglio began after the bookstore's 80-year-old owner decided to close down his business, and the new owners gave him a month to move out the stock, which included a number of Korans and other Islamic books.
March 17. Zameer Ghumra, a 37-year-old Leicester pharmacist, was arrested after showing a beheading video to two young children. He was charged with distributing terrorist publications under section two of the Terrorism Act 2006.
March 18. The BBC apologized after a tweet from the BBC Asian Network account asked, "What is the right punishment for blasphemy?" The tweet provoked criticism that the BBC appeared to be endorsing harsh restrictions on speech. In an apology posted on Twitter, the network said it had intended to debate concerns about blasphemy on social media in Pakistan. "We never intended to imply that blasphemy should be punished," a spokesperson said.
March 19. A British jihadist reportedly used social welfare payments to move his family to Syria to join the Islamic State. Shahan Choudhury, 30, who was radicalized at Belmarsh Prison while serving an 18-month sentence for stabbing to death a 17-year-old hospital worker over an alleged £15 ($18) drug debt, vanished from his apartment in London and has since used social media to urge other British Muslims to carry out terror attacks in the UK.
March 20. Mohammed Karamat, 45, an imam at a mosque in Coventry who assaulted four children as young as nine, was spared jail time. Magistrates watched footage of Karamat twisting a child's arm, slapping a child, and using a pen to stab a child and pricking a child's hand with the lid of a pen. He was filmed attacking the children during a six-day period. Karamat, who admitted to four counts of assault by beating, was ordered to do 100 hours unpaid work.
March 21. Minister for Higher Education, Jo Johnson, ordered British universities to include a clear commitment to freedom of speech in their governance documents to counter the culture of censorship and so-called safe spaces. Johnson said that universities had a "legal duty" to ensure as far as practicable that freedom of speech is secured for "members, students, employees and visiting speakers." University premises should therefore not be "denied to any individual or body on any grounds connected with their beliefs or views, policy or objective."
March 22. Khalid Masood, 52, drove a car at pedestrians on London's Westminster Bridge and, armed with two knives, stormed the parliamentary estate. He killed five people and injured more than 50 before he was shot dead by police. Masood, a convert to Islam, was born in Kent as Adrian Elms. He was unemployed at the time of the attack and had been living on social welfare benefits. Masood, who had previous convictions for assaults, including grievous bodily harm, possession of offensive weapons and public order offenses, was reportedly radicalized in prison.
March 23. The Islamic State claimed responsibility for the Westminster attack. "The perpetrator of the attacks yesterday in front of the British parliament in London is an Islamic State soldier and he carried out the operation in response to calls to target citizens of the coalition," the group's Amaq news agency said in a statement.
March 23. Prime Minister Theresa May said that it would be "wrong" to describe the jihadist attack on Westminster Bridge and Parliament as "Islamic terrorism." Instead, she said, it should be referred to as "Islamist terrorism" and "a perversion of a great faith."
March 25. Police investigating the Westminster attack concluded that Khalid Masood acted entirely alone for reasons that may never be known. "We must all accept that there is a possibility we will never understand why he did this," deputy assistant Metropolitan police commissioner Neil Basu said. Meanwhile, British security services reportedly do not like the term "lone wolf" because they feel it glamorizes an attacker. They prefer using "lone actor" instead.
March 25. An estimated 400 home-grown jihadis have returned to the United Kingdom after fighting in Syria, but only 54 of those have been prosecuted, according to a Mail on Sunday investigation, which also discovered that some returned jihadis are roaming free on the streets of Britain.
March 28. Kevin Lane, a convicted murderer who spent 20 years in British prisons, including HMP Woodhill and HMP Frankland, told the BBC that he saw many inmates pressured to convert to Islam and carry out attacks on other prisoners. "One man boiled fat and poured it over someone's head because of an insult to Islam," he said. A spokesman for the Ministry of Justice said: "The allegations put forward by the former prisoner are historic."
March 31. A new biography of Prince Charles revealed that the heir to the British throne tried to halt the U.S. invasion of Afghanistan to "honor" Ramadan. He made the plea in an "urgent call" to William Farish, the American ambassador to London, four weeks into the huge military operation launched after the 9/11 terror attacks. Farish recalled: "Prince Charles asked me if it would be possible to stop the invasion to honor Ramadan, and if I could convey that request to President Bush." The ambassador replied that it would be difficult to halt a military invasion already in full swing, but the prince allegedly protested: "But Americans can do anything!" Farish asked: "Sir, are you really serious?" Prince Charles replied: "Yes I am."
---
For the remaining nine months of 2017, read the complete post at https://www.gatestoneinstitute.org/11648/britain-islamization-2017